HofR Donations List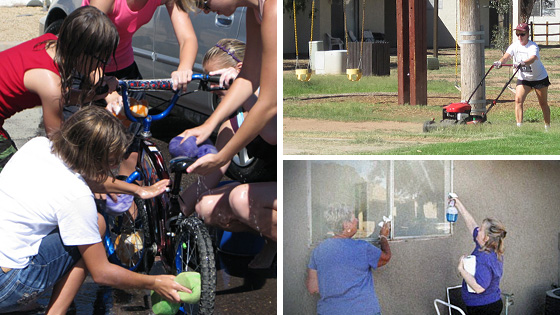 Related Media
Listen to MISSION sermons on doing justice.
Contact Us
Office: 480-455-4872
Fax: 480-539-1028
Current Needs
Click here or scroll down below to see the current needs.
Emergency food boxes are available through our food pantry to assist our residents and their children in stretching their food budgets. These food boxes also serve a couple of other purposes. First, they provide well-balanced food items designed to last a few days. Second, the ability to begin budgeting for items like housing and food will be a critical success factor for our residents when they obtain permanent housing.
House of Refuge is constantly in need of the following items:
 Cans of tuna or chicken
 Cans of fruit
 Cans of vegetables
 Cans of soups or sauces
 Bags or cans of beans
 Package of pasta or rice
 Boxes of macaroni and cheese
 Peanut butter (plastic jars preferred)
 Ready-made meals (like Spaghettios or Raviolios)
 Juice (half gallon plastic preferred)
 Boxes of cereal

Additional "nice to have" items:
 Instant oatmeal
 Snacks
 Jelly (plastic jars preferred)

Please note that while we appreciate
every donation we receive, we ask that you please avoid donating (1) items packaged in glass, (2) repackaged or homemade food, or (3) bulk quantities of rice, flour, or sugar.
NON Food Items:
House of Refuge is constantly in need of the following items:
 Furniture
 Dressers or chest of drawers

Cleaning Supplies (prefer non-bulk)
 Dish soap
 Spray cleaners
 Floor cleaners
 Sponges
 Laundry detergent

Toiletries (full size preferred)
 Shampoo
 Conditioner
 Body wash
 Feminine hygiene items
 Razors / Shaving cream
 Toothbrushes / toothpaste
 Deodorant
 Diapers & wipes