Open Arms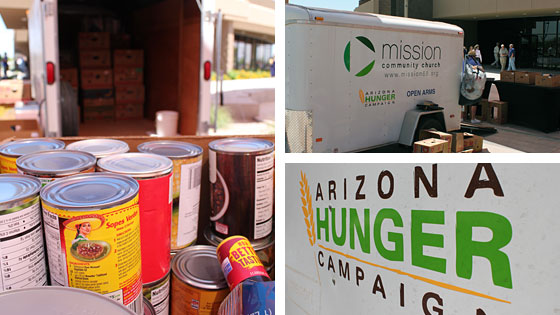 When & Where
You can drop-off your items on campus during Saturday night and Sunday morning services every 3rd weekend of the month.
Serve
We are looking for volunteers to help collect and organize items as people drop them off during weekend services. Please contact us if you're interested in serving.
Contact Us
Office: 480-545-4024
Fax: 480-539-1028
Like Justice on Facebook
**MISSION Blanket Drive 2015: We will be collecting warm blankets and jackets for the homeless in Gilbert on Tuesday, October 6 through Sunday, October 11. Please bring all donation items and drop them in the collection trailer in the courtyard.
The Story
Open Arms Care Center is the only foodbank in Gilbert, AZ. Open Arms provides food, personal hygiene products and other essentials to over 1,500 Gilbert residents every month.
What We Do
On the third weekend of every month, we collect non-perishable food items at MISSION. Last year, we collected almost 50,000 pounds of food through our 3rd Sunday Charity initiative.
How You Can Help
There are two ways you can get involved:
Bring non-perishable food items to MISSION on the 3rd weekend of every month. Click on the link below to see what the current food needs are at Open Arms.
Serve at the Open Arms Care Center in Gilbert by sorting and shelving food and clothing and helping families find the items they need when they come in to the donation center. The center is open Monday and Wednesday 1-3p, Tuesday and Thursday 9-11a and 6-8p and Saturday 9-11a.