Mission Kids K-3rd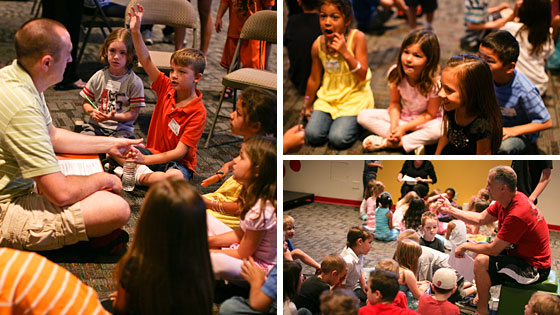 When & Where
MISSION cares for your K-3rd graders during every service. Visit the Family Center to check your child into the right place.
First-Time?
If you are new to MISSION please click below for some important Mission Kids info.
Contact Us
Kindergarten-3rd Grade
K-3rd programming is a place for elementary school kids to meet new friends and learn how to respond appropriately to these truths in the Bible:
God has a plan for me, so I need to make a wise choice.
God loves me, so I can trust Him no matter what.
God forgives me, so I should treat others the way I want to be treated.
We combine a small group environment of meaningful conversation and hands-on active application with large group experience of dramatic storytelling and high-energy worship.
What happens at K-3rd?
Kids are challenged every weekend to trust God, make wise choices and build lasting friendships. Here's what a typical morning at Mission Kids looks like:
Welcome
Each child is greeted at their classroom environment. Children participate with their small group in an activity meant to introduce the one TRUTH, or bottom line, we want kids to walk away with and remember.
Large Group Environment
Shortly after arriving, kids move to their large group environment where they hear the Bible story. We use costumes, props and characters from the story - anything that makes the Bible come to life. We engage in expressive worship inviting kids to sing and dance and tell God how much they love Him.
Small Group Environment
After participating in worship, kids travel back to their small group where their leaders help them understand how the day's bottom line can fit into their everyday life. Small group leaders create fun with kids and are passionate about teaching the TRUTH. We want kids to see how God's Word fits into their lives, to learn how to talk to Him, and to build friendships that will last.
Curriculum
We use 252 Basics, a web-based curriculum for K-3rd graders. Based on Luke 2:52, the curriculum is built around our Three Basic Truths.


Wisdom: I need to make the wise choice.
Faith: I can trust God no matter what.
Friendship: I should treat others the way I want to be treated.
The Three Basic Truths are amplified through 36 monthly virtues (such as kindness, generosity and faith) and 150 Bible stories. Every week there is a key TRUTH or bottom line that we drive home. It's the ONE THING we want kids to understand during their hour.