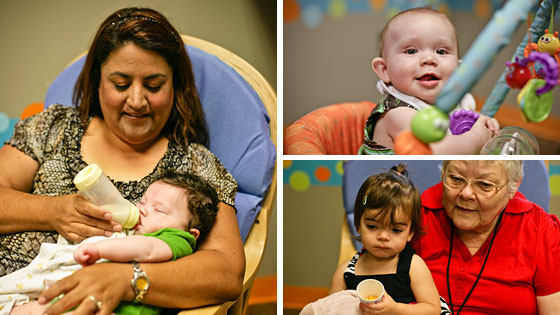 When & Where
MISSION cares for your little ones during every service in the Nursery & Toddler building.
First-Time?
If you are new to MISSION please click below for some important Mission Kids info.
Contact Us
Caring for Your Little Ones
We count it a privilege to care for your newborn and toddler. As we care for your precious little one, we show them Jesus through nurturing love.
Infants
We know that leaving your new baby for the first time can be overwhelming. The volunteers in our infant classrooms have been chosen for this age group because of their love for babies and their training to care for all of the needs of your infant. We hope that the following information will help you and your baby have a great experience at MISSON.
Please bring diapers, bottles, pacifiers and any special blankets that will soothe your baby.
Label all items that belong to your baby.
To ensure that your baby receives the best care, we adhere to a one volunteer to every three children ratio in our infant and crawler classrooms.
Promotion in the nursery classrooms is based on development. When they start crawling, they will move up to a crawler room and when they start walking, we will move them up to a toddler room. Your child's teachers will communicate with you before this change is made.
Nursing Mothers
If you are a nursing mother we invite you to nurse your baby in our Women's Lounge located within the women's restrooms of the Worship Center. The Women's Lounge provides live audio and video so you won't miss out on the worship service.
Toddlers
This is a fun and active stage in your child's life. We are excited to have them at Mission Kids and look forward to teaching them that God loves them, God made them and Jesus wants to be their friend forever.
Classroom Safety & Snacks
To ensure that our classrooms are safe and to create the best possible learning environments, we adhere to a low volunteer to child ratio. We provide toys, activities and snacks in the classrooms. Our typical snack includes Gerber Graduates Vanilla Puffs and Goldfish. If your child has any allergies or special dietary needs, please inform the teachers and bring appropriate snacks for them.
What to Bring
Be sure to bring extra diapers and a change of clothes. Label all items, including cups, diapers, pacifiers, etc. If your child is potty training, please be sure to communicate that to the teacher. We ask that they wear pull-ups to the classrooms. Female volunteers assist children with their diapering and toileting needs as necessary.
What NOT to Bring
Please do not bring extra toys, since it is hard to distinguish what belongs to whom. This can cause the children unnecessary frustration when they are asked to share something that was brought from home.
Classroom Promotion
Your toddler will be promoted to the next classroom based on the school calendar. Promotion takes place in early June.