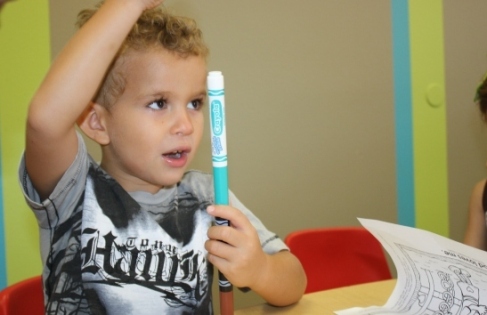 When & Where
MISSION cares for your 2, 3 & 4 year-olds during every service in the Preschool Building.
First-Time?
If you are new to MISSION please click below for some important Mission Kids info.
Contact Us
Preschool
Your preschooler will laugh and wiggle their way through interactive play, creative Bible storytelling, expressive song worship and Bible memory verses focusing on three simple truths:
God loves me, God made me and Jesus wants to be my friend forever.
Two Year-Olds
Our teaching plan begins in our preschool classrooms. All activities are age-appropriate with plenty of flexibility for the typical needs of two-year-olds.
Our curriculum is centered on three basic truths. We focus on one of these basic truths each month. Every week your child will learn a Bible story that will help them understand the key truth.
Two-year-olds participate in many age-appropriate, creative activities. We believe in an active, hands-on approach with your kids, so be on the lookout for those fun projects!
Three & Four Year-Olds
While you are in adult worship service, your child is interacting in a fun-filled, age-appropriate environment.
In order to create the most ideal teaching environment, we place one volunteer in each classroom for every seven children.
Your child will enjoy both a large and a small group experience.
The class begins with a MAKE IT FUN activity that is designed to engage each child.
Upon transitioning to the large group room, the children hear a creative presentation of the Bible story and participate in worship, where they are encouraged to sing and dance and interact with their leaders.
Following the worship and story time, they will go to their small groups for a brief time to talk about what they've learned and what it means to their young lives. They will also pray together as we teach them what it means to talk to God.
During the last part of their programming, they will participate in several creative, fun activities designed to help them better understand the key truth of the day through a hands-on experience.
Potty Training
If your child is potty training, please communicate that to the teachers and bring an extra change of clothes. Female volunteers assist children with their toileting needs as necessary.
Snacks
There may be occasions when we serve snacks in coordination with a lesson. On those days you will see a note posted in the classroom. If your child has any allergies or special dietary needs and cannot eat what we have provided, please inform the teachers and bring appropriate snacks for them. Please label all items that belong to your children.
What NOT to Bring
Please do not bring toys from home as it is very difficult to keep up with them and it causes unnecessary stress for the kids when they are asked to share with other children.
Classroom Promotion
Your preschooler will be promoted to the next classroom based on the school calendar. Promotion takes place in early June.