Security, Check-in & Wellness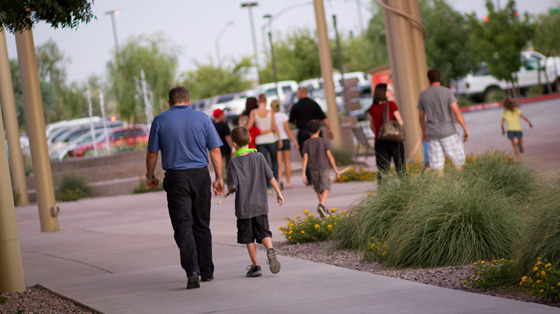 When & Where
Please click the age group in the right column for specific times & location.
Contact Us
What You Need to Know
Each weekend, staff and volunteers work hard to create a safe and meaningful experience for your children. Here are a few things you need to know to help us make the experience GREAT.
If you are new to MISSION please plan to arrive at least 20 minutes before the start of service. The Family Center is located on the southwest side of campus (south of the fountain). MISSION volunteers will help get your kids to their classrooms and answer your questions. Look for volunteers in the blue shirts.
We'll need you to fill out a Family Info Card, which places your children in our check-in system. You can fill out the form online HERE or when you arrive on campus in the lobby of the Family Center.
Check-in / Security Process
One of our primary goals for Children's Ministry is to provide a safe and secure place for children to learn and play. We do that through several measures, all of which are meant to keep our ministry secure and provide peace of mind for our parents.
Nametag Matching
We have a nametag system connected to our check-in database. Each child is given a nametag with a security code (multiple children in the same family will all have the same security code). The parents of those children are given a tag with a corresponding security code. When it is time to pick your children up after the service, a Mission Kids team member will verify that the parent's security code matches that of the child and release the child into the care of the parent/s.
Digital Signage
We have placed LED digital signage underneath each of our 2 side screens in the Worship Center, Family Center, Student Center, and Seminar Room. If for any reason during service we require assistance, a Mission Kids team member will page a parent by displaying the child's security code on the sign.
Campus Safety
We also have a Campus Safety team that watch our Children's Ministry buildings. No one without a volunteer or staff nametag will be allowed in the Children's Ministry area during services. This includes parents whose spouse may already be in the Children's Ministry area. It is important for the safety of the children that parents who wish to pick their children up together enter and exit the Children's Ministry area together with their tag.
Two or More
We also have a policy that no Mission Kids team member will be alone with a child or group of children under any circumstance. There will always be at least two Mission Kids team members with a child or classroom at all times – NO EXCEPTIONS.
Interview, Training & Background Check
Finally, all of our Mission Kids team members have gone through an interview and application process, received basic children's ministry training, and had a national background check to provide added security and safety for your children.
Wellness Policy
For the protection of all our children, please do not bring your children to class if they exhibit any of the following:
Fever in the last 24 hours
Vomiting or diarrhea in the last 24 hours
Common cold (onset through one week)
Any unexplained rash
Cloudy or green runny nose
Pink eye or other eye infections
Persistent cough
Any communicable disease
Any symptoms of common childhood diseases, such as chicken pox, strep throat, etc.